CPROCURE
C-Procure is a cloud based marine e-procurement solution for buyers and sellers within the maritime industry. C-Procure aims to provide integration of the buyers and suppliers around the globe to the ship owners and contractors.​
HOW C PROCURE WORKS
C procure retrieves all the Purchase Orders (PO) or Request for Quote (RFQ) created in your fleet management system. This is distributed to supplier chosen by you and the vendor quotes that is received in Cprocure' s portal is accessed. Later you can review, verify and accept the quotes provided by the vendors that match your acceptance criteria.​
C procure aims to give a cost-effective integral solution to both small and large sized businesses. For our customers who lack a large fleet management system, C procure can offer a purchasing solution that has inbuilt portal for to help you to generate RFQ, manage vendor, track purchase orders and invoice management.​
Strategic management
Better vendor management
Diligent communications for both Internal & External purposes
Internal (communications with the vendor)
External (communication with Port call agents and freight providers)
Reports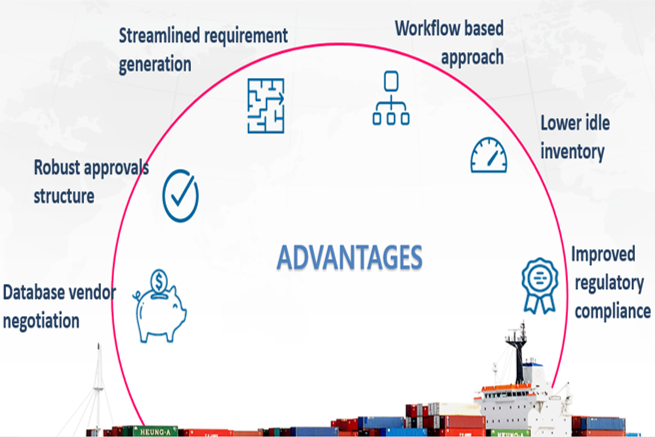 FEATURES
Product, Price, Category Management
Product, Price, Category Management
Cost Centre Management
Cost Centre Management
RFQ,PO, GRN & Invoice Management​
RFQ,PO, GRN & Invoice Management​
Payment Tracker & Tax Management 
Payment Tracker & Tax Management 
Purchase Returns Management
Purchase Returns Management
Raise Requisition with turn around time
Raise Requisition with turn around time​
Review & Approval Process 
Review & Approval Process 
Vendor Login Portal
Vendor Login Portal